Posted by: YoNews
« on: Dec 07, 2017 01:00:03 PM »
'Not if, but when': N. Korea claims US warmongering makes potential nuclear war inevitable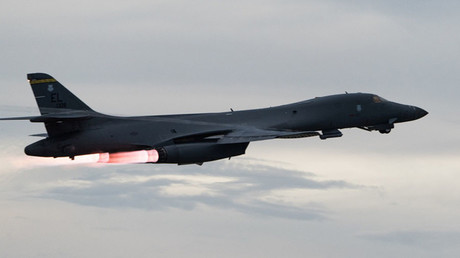 North Korea views the endless military drills on its borders and repeated "bellicose remarks" by top US officials as means to "provoke" a nuclear war in the region, in which the US itself will be "burnt to death by the fire."

"The large-scale nuclear war exercises conducted by the US in succession are creating touch-and-go situation on the Korean peninsula and series of violent war remarks coming from the US high-level politicians amid such circumstances have made an outbreak of war on the Korean peninsula an established fact. The remaining question now is: when will the war break out," a spokesperson for North Korea's foreign ministry said Wednesday in commentary provided by state news agency KCNA.
The US and its regional allies are in the midst of a massive and unprecedented five-day joint air force Vigilant Ace exercise which kicked off Monday. In the latest provocative show of force, the US Air Force dispatched B-1B aircraft, F-22 Raptor fighter jets, as well as several F-35 stealth jets and F-16 fighter planes over the Korean peninsula Wednesday. While the drills are allegedly 'defensive' in nature, top American and South Korean pilots are polishing their skills to carry out attacks on North Korean nuclear and missile installations in different war scenarios. A total of 12,000 personnel and over 230 military aircraft are engaged in the drills that will run until December 8.
The ongoing military maneuvers are accompanied by aggressive warlike rhetoric from Washington. Over the weekend, White House national security adviser H.R. McMaster warned that the possibility of war with Pyongyang is "increasing every day." Senator Lindsey Graham (R-SC), on Sunday, called for the evacuation of family members of US military stationed in the region. CIA chief, Mike Pompeo, on Saturday, said US intelligence agencies believe that North Korean leader Kim Jong-un does not have a clue how weak his position is.
"Those around him are not feeding him the truth about the place that he finds himself – how precarious his position is in the world today. It's probably not easy to tell Kim Jong-un bad news," he said in Simi Valley, California
Source:
'Not if, but when': N. Korea claims US warmongering makes potential nuclear war inevitable